Anyone who goes to sff cons with any regularity knows that packing for such an outing is an exercise in choosing your plumage. Is it the sort of gathering where you cosplay, and if so, should you invent something new, or break out an old standard? If it's professional, how many stealth geek things can you work into an ensemble — galaxy necklaces, and dresses or ties with double-helix patterns, or what-have-you. Or maybe you've just got a dozen different comic, book, and movie t-shirts to choose from, and not enough days to wear them all.
I'm here to say I've just complicated your lives more, con-goers.
You're welcome.
Oh, and non-con goers? This might get you to rethink your wardrobe, too.
Custom Ink produces t-shirts for all kinds of events and groups, and now they make a Thieves of Fate character t-shirt, for a limited time, with an added feature of awesome: 100% of the proceeds from these shirts will be donated to the American Civil Liberties Union.
It's been said that it's a bad idea for artists and creatives to get political, but that claim rests on a blinkered understanding of what art is. Everything is political, in some sense. You can't tell me that I'm writing a dark fantasy series featuring a hegemonic religious and technological authority that's abdicated all interest in the moral consequences of its doctrine and it ISN'T political. You can't tell me that the world hanging on the fate of nine unknown persons — people we might easily disregard or destroy without a second thought, because life is so common, so cheap, so expendable — isn't an observation of something at least a smidge Kantian, a trifle humanistic.
My books are in the fight to make a better world, and so am I. So, I hope, is any reader who enjoys my writing and wants to share it with others. And I hope that's the type of reader who would want to wear it, too.
Custom Ink's Thieves of Fate character tees are pretty awesome, if I do say so myself, featuring the names of the principle characters of the series: Anselm, Rare, Chalmers, Gammon, Rowena, and the Alchemist, a rogue's gallery up and down.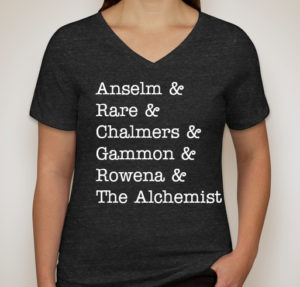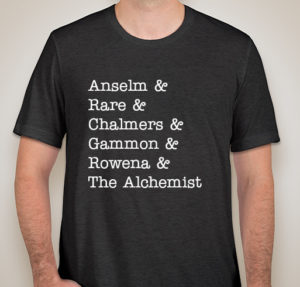 The shirts are available through November 29 in both women's and unisex styles, with a handy size-checking tool that lets you actually see what the shirts look like on people of different sizes and body types! Each shirt costs $25, and each benefits the ACLU directly, down to the penny.
So: ready to flesh out your con wardrobe?
To buy someone a holiday gift to add to that pre-order of The Fall you've done?
To wear something fun to your book club, to the library, the grocery store, to school? On casual Friday?
Of course you do. Here's how to get it done: order your Thieves of Fate character tee here!